Halo 5 Whole House Water Treatment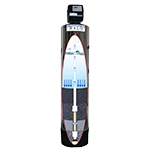 Our Halo 5 whole house water treatment system is our top of the line product. Our high volume of chlorinated water in the Las Vegas Valley wrecks havoc on our plumbing systems. The hardness of our water wrecks havoc on our skin and our dishes and shower doors. The Halo 5 system address these issues and eliminates them. This whole house treatment system provides you with great quality drinking water at all your taps. So the water you brush your teeth with is cleaned your shower water is cleaned your cooking water is cleaned, yes the water you use for you pets are clean.
There is no heavy salt or potassium to buy no filters to clean. This product is designed to help both your home's plumbing system from its faucets and water pipes, to prolonging the life of your water heater and even helping to prevent sewage back ups.
Not to be confused with a traditional ion-exchange water softener that requires regular maintenance and a reoccurring cost of salt or potassium. This maintenance free system works differently. It does not remove the calcium in the water that you typically see caked up on your dishes after you wash them or your shower doors. And the the "hardness level" will not change. Only an ion-exchange softener can do that. What it does is change how the calcium in the water is arranged and forms and prevents it from caking together. In doing so it prevents hard water staining on your glasses and doors. It helps our laundry detergent work more effectively, it allows you to use less soap and can make your cleaning products work more effectively.
If you are looking for a maintenance free system that can remove the chlorine from your water, assist with laundry detergents, prevent hard water stains, and give you healthy great tasting water throughout your home. Then consider a Halo 5 whole house water treatment system in your home.
Call Sunrise Service Plumbing at 702-568-5300 and ask for Casey the Plumbing Foreman or email him directly at cwebb@sunrisehvac.com.
Sunrise Service Plumbing is always here to help answer your questions and are happy to give the pros and cons on all of our products.