Nuvo H20 Water Softener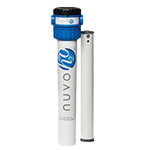 Why a Nuvo?
Nuvo H2O is a salt free water softener alternative. It uses an eco-friendly, FDA approved food-grade chelant, essentially a citric acid, cartridge that is able to condition the water as it passes through it. It is designed to replace many of the harmful side effects of a traditional water softener that many municipalities have begun banning.
Unlike a traditional water softener a Nuvo H2O system does not lower the total dissolved solid (TDS) level in the water. It softens the water by binding the minerals in the water to make them soluble and wash away freely from your body, hair, dishes, surfaces, and plumbing. It is this process that also allows the buildup on existing plumbing fixtures to slowly be removed over time. Also unlike a traditional softener the Nuvo H2O is safe for drinking, and safe for plants and pets.
For some more info on Nuvo H2O and the science behind it Click Here.
For specific questions:
Call Sunrise Service Plumbing at 702-568-5300 and ask for Casey the Plumbing Foreman or email him directly at cwebb@sunrisehvac.com.
Sunrise Service Plumbing is always here to help answer your questions and are happy to give the pros and cons on all of our products.
Sunrise Service Inc. license #43055 & #79086 Call Sunrise Service Inc. ph# 702-568-5300