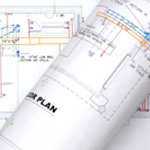 Whether your house is an investment or your forever home, it's important that it fits your vision. Everything should be to your liking, including the form and function of your fixtures. Plumbing systems and fixtures are an essential part of your home's (whether it's new or lived in) structure.
From helping you shore up your new house to modernizing old fixtures, the experts at Sunrise are dedicated to helping you find an affordable plumbing solution that fits your needs best. Further, we understand that careful planning prevents needless expenses later on.
Our dedication to educating ourselves on the latest developments in the industry guarantees that we have a deep understanding of plumbing systems and everything that goes along with it. This ensures that we have the expertise necessary to help you pick the right systems and fixtures for your new home or remodeling project. For instance:
Bathroom Planning: Although it's usually the tiniest room in the house, there are a lot of design and architectural decisions that need to be made. It's the only way to get you the look you want and to keep everything operating smoothly. Our experts can help you plan and install an abode that's uniquely yours.
Kitchen Planning: Whether you're outfitting a new kitchen or remodeling your old one, it's no easy task. The typical kitchen project involves making hundreds (possibly) thousands of decisions to get everything done just right. No wonder most people only do it once or twice in their lifetime.
This is where we come in – our technicians have the expertise to take a huge chunk of this load off your shoulder. Their know-how ensures that they will provide you with solutions that ease installation while simultaneously reducing costs.
Laundry Room Planning: Although the average household does at least seven loads of laundry every week, the laundry room is one of the worst planned areas in most homes. The laundry is usually tucked away in some remote location – like crammed into a hallway closet or in individual bathrooms – which make doing the laundry harder than it needs to be. We can help you create a laundry room that's not only functional but aesthetically pleasing as well.
The experts at Sunrise would love to partner with you and your general contractor to bring your vision of your home to life. We will provide our design and installation experience to help you avoid unnecessary costs and meet your construction deadline.
Interested in learning more? Call us today at 702-568-5300. We will be more than happy to answer any questions you may have.
Sunrise Service Inc. License# 43055 and 79086 Phone# 702-568-5300
Sunrise Plumbing is here to help you with all your plumbing related questions or needs.
If something comes up, don't hesitate to contact us and make an appointment for service.